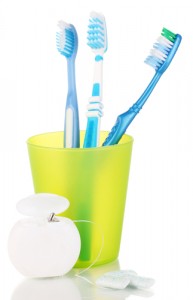 Homecare is very important in preventing both tooth decay and gum disease. Therefore, it is important to ensure that your habits and techniques are effective. To help you in this endeavor, your Ankeny IA dentist, Dr. Erika Peddicord, has put together the following list. Read below as she shares several homecare tips that can help you fight back against plaque and tartar.
Homecare Tips from Your Ankeny IA General Dentist
Brush near your gum line. When you brush your teeth, it is important that you clean the areas of your teeth that sit just above the gum line. When bacteria accumulate in these areas, the risk of gum disease can increase. From this position, bacteria can make their way beneath the gums and inflame them (gingivitis). Thus, be sure that you angle the bristles of your toothbrush toward your gum line while you brush. Doing so can keep these important areas free of bacteria.
Floss gently and with purpose. Many people neglect flossing altogether. Others floss somewhat aimlessly, placing the floss between their teeth and moving on. However, when you floss, it is important to remember that the goal is to remove bacteria from between your teeth. Thus, when you floss, glide the floss gently along the edge of each tooth.
Don't overbrush. Brushing too forcefully or too frequently can actually be harmful to teeth. The excessive abrasion can strip them of enamel, weakening them and making them more vulnerable to tooth decay. Therefore, be sure that you brush with gentle pressure, trusting to thoroughness rather than force to keep your teeth clean. Also, try to brush 2-3 times per day for 2-3 minutes as a general rule.
Schedule a Visit with Your Ankeny IA General Dentist
When was the last time you stopped by for a dental cleaning? If it was more than six months ago, you are due for another one. Contact your Ankeny IA general dentist, Dr. Peddicord, today to schedule an appointment or a consultation by calling 515-963-3339. Our 50021 dentist office welcomes patients from Ankeny, Bondurant, Cambridge, Sheldal, Maxwell, Collins, and all surrounding communities.