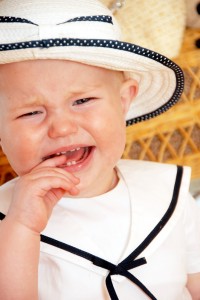 An eruption cyst occurs when a baby's teeth are beginning to emerge through the gums. The teeth form inside a fluid-filled enclosure within the jawbone, and if there is accumulated leakage, a hematoma will appear. This can be quite frightening to a parent if they aren't aware of what they are looking at. Your Ankeny dentist, Dr. Erika Peddicord, offers answers to frequently asked questions on eruption cysts.
Eruption Cyst FAQs
What color is an eruption cyst?  Eruption cysts can appear in different colors. Bluish-purple, dark red, brown, and translucent are the most common color descriptions.
What exactly is an eruption cyst? In the simplest terms, an eruption cyst is nothing more than a colorful hematoma (i.e. bruise) on the gingival tissue (gums).
How should eruption cysts be treated? Most eruption cysts don't require any treatment and the bruise will heal in a matter of days. Generally, your baby won't even feel any discomfort beyond regular teething aches and pains. Occasionally, the cyst will create a blockage so that the tooth is unable to emerge. This is rare, but easily remedied with a small incision made by your dentist, so the tooth is free to come through the gums.

(more…)