Regular Checkups and Teeth Cleanings in Ankeny
Why are Regular Checkups and Teeth Cleanings Important?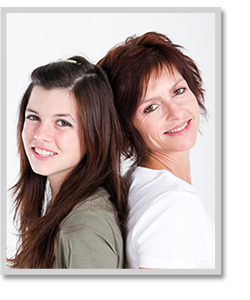 In conjunction with a consistent at-home dental hygiene regimen and wise lifestyle choices, regular checkups with a general dentist offer the best method for preventing and controlling serious oral health problems, such as gum disease. First, a dental professional can identify issues long before you notice any symptoms. Second, professional teeth cleanings provide a much more comprehensive clean than even the most advanced at-home care. While you might be able to get rid of some surface plaque by brushing and flossing, only a dental professional can completely remove plague and tartar buildup from areas you cannot reach.
What Happens During My Checkup and Cleaning?
When you visit Peddicord Family Dental for the first time, our assistant will likely take digital x-rays. These provide Dr. Erika Peddicord with a complete view of your tooth and jaw structure. Next, our dental hygienist will clean your teeth using a gentle ultrasonic scaling device that uses high frequency vibrations to remove plaque and tartar. Dr. Peddicord will then go over your x-rays and conduct a thorough visual examination. She will utilize DIAGNOdent, a light-emitting device that helps her identify places where cavities are likely to occur, as well as the VELscope oral cancer detection tool. At any time during the cleaning and checkup process, we encourage you to voice any concerns, questions, or fears that you might have so we can better serve your individual needs.
How Often Should I Have a Checkup and Professional Cleaning?
Although the exact frequency will need to be determined by you and Dr. Peddicord, most healthy children, teens, and adults should have regular checkups every six months. In some cases, getting a checkup once every year is adequate if lifestyle restrictions prevent you from visiting more often. Some patients, especially those with significant oral health issues, genetic predispositions for certain diseases, or compromised immune systems should plan on scheduling checkups every three months.
Schedule Your Next Checkup and Cleaning
Keep your smile in its best shape by visiting your dentist regularly. To schedule an appointment with Dr. Erika Peddicord, call our dental office today at (515) 963-3339. Located in Ankeny, IA, we also serve patients who live in Bondurant, Polk City, Elkhart, Alleman, Cambridge, and all surrounding communities.