Dentures and Dental Implants in Ankeny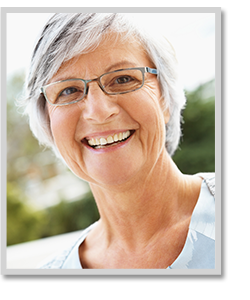 Approximately 33 million Americans wear either full or partial dentures. In the last twenty years, dental implants have offered patients another reliable option for restoring the beauty and function of their mouths. No matter which choice best fits your lifestyle needs, dental prosthetics can improve your quality of life, allowing you to:
• Return to normal speaking.
• Enjoy eating a regular variety of foods.
• Look more youthful and feel more confident, since a full mouth of teeth helps to support your cheeks and facial muscles.
• Avoid the risk of tooth decay, gum disease, and TMJ disorders, conditions exacerbated by missing teeth.
• In the case of dental implants, help maintain the density of your jawbone.
At Peddicord Family Dental, we want you to enjoy the highest quality of life possible. That's why we take accurate impressions so your denture or partial is carefully crafted to fit your mouth. If it doesn't fit, we will take the time to adjust it so you can enjoy normal activities with minimized risk of slippage. If you make a good candidate for dental implants, Dr. Peddicord can refer you to a trusted oral surgeon to insert the implant and, after it has healed, she can place a beautiful, translucent artificial tooth.
We invite you to talk to Dr. Peddicord about any of our beautiful prosthetic options:
• Bridges
• Dentures and Partials
• Dental Implants
Rebuild Your Smile with Prosthetic Dentistry
Rebuild your smile after tooth loss with a custom-crafted dental prosthesis. To learn which option is right for you, schedule an appointment with Dr. Peddicord by calling our office today at (515) 963-3339. Located in Ankeny, IA, we also serve patients who live in Bondurant, Polk City, Elkhart, Alleman, Cambridge, and all surrounding communities.